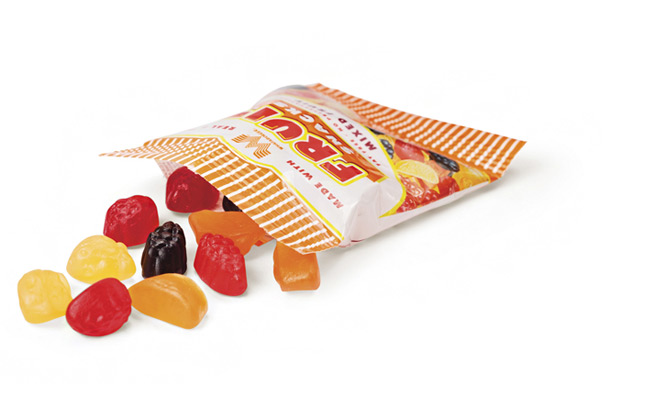 FRUIT CHEWS
Six fruity flavors.
Mixed fruit snacks in grape, strawberry, orange, white grape, raspberry and peach. A tasty way to get 100% of your daily dose of Vitamin C.
Fruit Chews

Six fruity flavors.
Fruit Chews
26Weight (g) 80Calories 0Calories from Fat 0Total Fat (g) 0Saturated Fat (g) 0Trans Fat (g) 0Cholesterol (mg) 10Sodium (mg)
20Carbs (g) 0Dietary Fiber (g) 0Protein (g) 11Sugars (g) 25Vitamin A (% DV) 100Vitamin C (% DV) 0Calcium (% DV) 0Iron (% DV)
Ingredients: Fruit puree (grape, peach, orange, strawberry and raspberry), corn syrup, sugar, modified corn starch, gelatin, concord grape juice from concentrate, citric acid, lactic acid, natural and artificial flavors, ascorbic acid (vitamin C), alpha tocopherol acetate (vitamin E), vitamin A palmitate, sodium citrate, coconut oil, carnauba wax, annatto (color), turmeric (color), red 40, and blue 1.
This Goes Great With