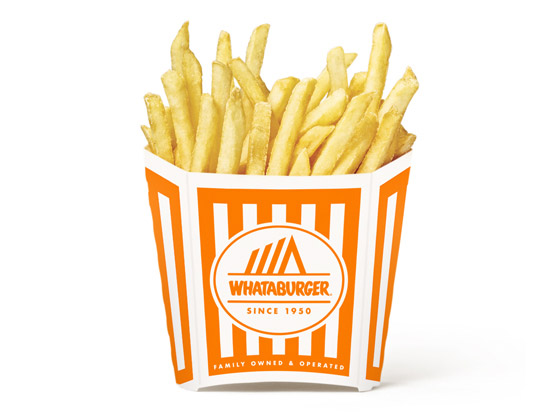 FRENCH FRIES
You definitely want fries with that.
Some folks think of our famous French fries as a delicious utensil for scooping up our Fancy Ketchup. But they're plenty tasty on their own.
French Fries

You definitely want fries with that.
French Fries
128Weight (g) 420Calories 190Calories from Fat 21Total Fat (g) 3Saturated Fat (g) 0Trans Fat (g) 0Cholesterol (mg) 260Sodium (mg)
52Carbs (g) 4Dietary Fiber (g) 5Protein (g) 1Sugars (g) 1Vitamin A (% DV) 13Vitamin C (% DV) 2Calcium (% DV) 7Iron (% DV)
Ingredients: French Fry Potatoes, soybean oil, dextrose, disodium dihydrogen pyrophosphate (to maintain natural color). (Note: Deep-fried in ZTF Whataburger liquid shortening and seasoned with Whataburger fry salt. Menu items that are deep-fried may come in contact with other products that contain gluten, wheat, dairy, egg, soybean, fish, or animal products.) Fry Salt: Salt flour consisting of natural crystalline.
This Goes Great With