Back To Menu
Meals 20-25 served with Hashbrown Sticks and Choice of 16 oz Coffee, 20 oz drink or 8 oz Milk.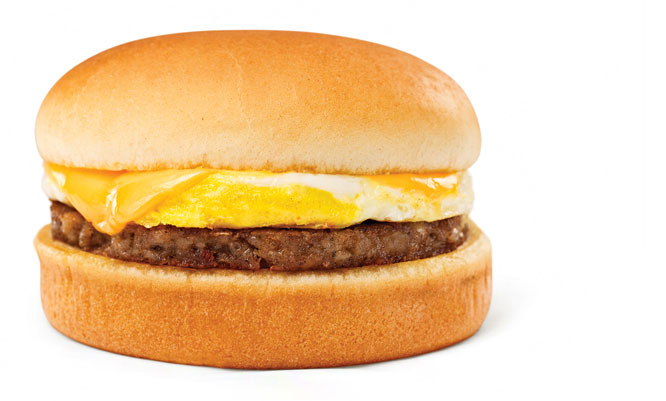 A handful of breakfast.
Ground pork sausage patty or bacon, with fresh cracked egg and cheese, all on a toasted bun. It's everything you've ever wanted in the morning.
Breakfast On A Bun®

A handful of breakfast.
Breakfast On A Bun®
139Weight (g) 350Calories 130Calories from Fat 15Total Fat (g) 6Saturated Fat (g) 0Trans Fat (g) 230Cholesterol (mg) 910Sodium (mg)
34Carbs (g) 1Dietary Fiber (g) 18Protein (g) 5Sugars (g) 13Vitamin A (% DV) 0Vitamin C (% DV) 22Calcium (% DV) 16Iron (% DV)
Allergens:
Egg
Milk
Wheat
Soy
MSG
Gluten
Ingredients: Small White Bun: Unbleached enriched flour (wheat flour, malted barley flour, niacin, reduced iron, thiamin mononitrate, riboflavin, folic acid), water, high fructose corn syrup, soybean oil, contains 2% or less of each of the following: yeast, wheat gluten, salt, dough conditioners (contains one or more of the following: sodium stearoyl lactylate, calcium stearoyl lactylate, monoglycerides, mono- and diglycerides, distilled monoglycerides, calcium peroxide, calcium iodate, datem, ethoxylated mono- and diglycerides, enzymes, ascorbic acid), calcium sulfate, calcium carbonate, ammonium sulfate, sorbic acid, soy flour, monocalcium phosphate, soy lecithin, and calcium propionate (to retard spoilage). May also contain grain vinegar, cornstarch, citric acid, and potassium iodate, and calcium phosphate. Contains: Wheat, Soy. Bun Oil: Liquid and hydrogenated soybean oil, soy lecithin, natural & artificial flavor, beta-carotene (color), TBHQ and citric acid added to protect flavor, dimethylpolysiloxane, an anti-foaming agent added. Egg - Fresh USDA grade AA ex-large whole shell egg American Cheese:Cultured Milk and Skim Milk, Water, Cream, Sodium Citrate, Salt, Sodium Phosphate, Sorbic Acid (Preservative), Citric Acid, Artificial Color, Acetic Acid,, Enzymes, Lecithin Special Seasoning: Salt (yellow prussiate of soda added) and pepper.
This Goes Great With