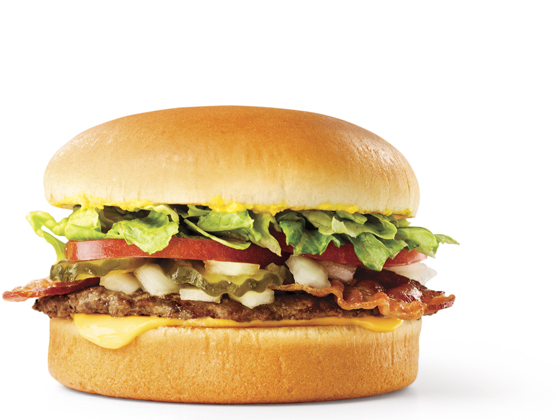 WHATABURGER JR.® WITH BACON & CHEESE
Mmmm, bacon.
There's something about the classic combination of bacon and cheese that really brings out the flavor of a 100% pure American beef Whataburger. And you can enjoy that original flavor with bacon and cheese for only 400 calories. Add apple slices and a diet drink for only 30 calories more.
Whataburger Jr.® with Bacon & Cheese
Whataburger Jr.® with Bacon & Cheese
180Weight (g) 400Calories 160Calories from Fat 18Total Fat (g) 7Saturated Fat (g) 0Trans Fat (g) 40Cholesterol (mg) 970Sodium (mg)
37Carbs (g) 2Dietary Fiber (g) 21Protein (g) 6Sugars (g) 13Vitamin A (% DV) 9Vitamin C (% DV) 20Calcium (% DV) 21Iron (% DV)
Allergens:
Milk
Wheat
Soy
Gluten
Ingredients: Beef Patty, Small: USDA inspected 100% ground beef. Small White Bun: Unbleached enriched flour (wheat flour, malted barley flour, niacin, reduced iron, thiamin mononitrate, riboflavin, folic acid), water, high fructose corn syrup, soybean oil, contains 2% or less of each of the following: yeast, wheat gluten, salt, dough conditioners (contains one or more of the following: sodium stearoyl lactylate, calcium stearoyl lactylate, monoglycerides, mono- and diglycerides, distilled monoglycerides, calcium peroxide, calcium iodate, datem, ethoxylated mono- and diglycerides, enzymes, ascorbic acid), calcium sulfate, calcium carbonate, ammonium sulfate, sorbic acid, soy flour, monocalcium phosphate, soy lecithin, and calcium propionate (to retard spoilage). May also contain grain vinegar, cornstarch, citric acid, and potassium iodate, and calcium phosphate. Contains: Wheat, Soy. Bun Oil for Small White Bun : Liquid and hydrogenated soybean oil, soy lecithin, natural & artificial flavor, beta-carotene (color), TBHQ and citric acid added to protect flavor, dimethylpolysiloxane, an anti-foaming agent added. Mustard: Water, vinegar, mustard seed, salt, turmeric, garlic, oleoresin paprika (color). Iceberg Lettuce: U.S. No. 1 crisphead (Iceberg) lettuce. Tomato: U.S. No. 1 tomatoes coated with vegetable-, petroleum-, beeswax-, and/or shellack-based wax or resin. Pickles: Sliced cucumbers, water, vinegar, salt, alum, calcium chloride, natural flavoring, sodium benzoate and potassium sorbate (preservatives), oleoresin turmeric & yellow #5 (colors), polysorbate 80 (emulsifier). Diced Onions: Diced, U.S. jumbo yellow onions. Bacon: Precooked bacon. Smoke flavoring added. Cured with: water, salt, sugar, smoke flavoring, sodium phosphate, sodium erythorbate, flavoring, sodium nitrite. Small American Cheese Slice: Cultured milk and skim milk, water, cream, sodium citrate, salt, sodium phosphate, sorbic acid (preservative), citric acid, artificial color, acetic acid, enzymes, sodium glyceryl oleate phosphate (for slice separation). Special Seasoning: Salt (yellow prussiate of soda added) and pepper.
This Goes Great With