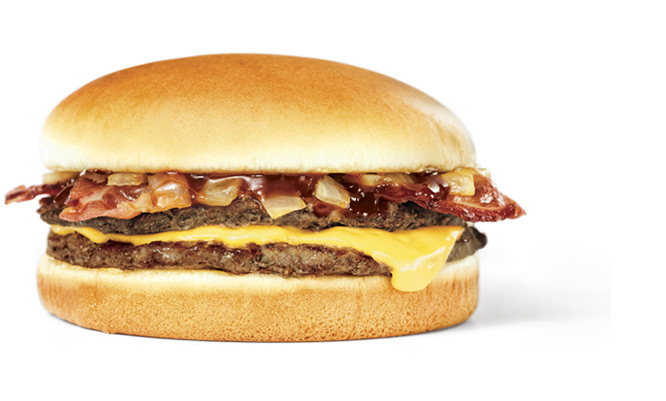 A.1.® THICK & HEARTY BURGER
Two Words. It's. Back.
You asked. We heard you. Two 100% beef patties topped with crispy bacon, grilled onions, melted cheese and that mouth-watering A.1.® Thick & Hearty Sauce. For a limited time only.
A.1.® Thick & Hearty Burger

Two Words. It's. Back.
A.1.® Thick & Hearty Burger
361Weight (g) 990Calories 490Calories from Fat 54Total Fat (g) 19Saturated Fat (g) 2Trans Fat (g) 120Cholesterol (mg) 2080Sodium (mg)
68Carbs (g) 3Dietary Fiber (g) 55Protein (g) 18Sugars (g) 12Vitamin A (% DV) 4Vitamin C (% DV) 29Calcium (% DV) 42Iron (% DV)
Allergens:
Milk
Wheat
Soy
Gluten
Ingredients: A.1.® Thick & Hearty Sauce: Tomato puree (water, tomato paste), high fructose corn syrup, vinegar, corn syrup, salt, raisin paste, crushed orange puree, spice, xanthan gum,dried onions, dried garlic and caramel color. Bacon: Precooked bacon. Smoke flavoring added. Cured with: water, salt, sugar, smoke flavoring, sodium phosphate, sodium erythorbate, flavoring, sodium nitrite. Beef Patty: USDA inspected 100% ground beef. Bun Oil: Liquid and hydrogenated soybean oil, soy lecithin, natural & artificial flavor, beta-carotene (color), TBHQ and citric acid added to protect flavor, dimethylpolysiloxane, an anti-foaming agent added. Diced Onions: Diced, U.S. jumbo yellow onions. American Cheese Slice : Cultured milk and skim milk, water, cream, sodium citrate, salt, sodium phosphate, sorbic acid (preservative), citric acid, artificial color, acetic acid, enzymes, sodium glyceryl oleate phosphate (for slice separation) . Large White Bun: Unbleached enriched flour (wheat flour, malted barley flour, niacin, reduced iron, thiamin mononitrate, riboflavin, folic acid), water, high fructose corn syrup, soybean oil, contains 2% or less of each of the following: yeast, wheat gluten, salt, dough conditioners (contains one or more of the following: sodium stearoyl lactylate, calcium stearoyl lactylate, monoglycerides, mono- and diglycerides, distilled monoglycerides, calcium peroxide, calcium iodate, datem, ethoxylated mono- and diglycerides, enzymes, ascorbic acid), calcium sulfate, calcium carbonate, ammonium sulfate, sorbic acid, soy flour, monocalcium phosphate, soy lecithin, and calcium propionate (to retard spoilage). May also contain grain vinegar, cornstarch, citric acid, and potassium iodate, and calcium phosphate. Contains: Wheat, Soy.
This Goes Great With